About Cloud Computing
Chief Telecom, an ISP and IDC provider of the Asian telecom hub, We incorporate a wide range of international connectivity resources and provide high-quality service to our customers. Assisted Regional Cloud Market、Multi-national based Enterprises market、Global ICP market、Global Carrier market to flourish. The Chief's cloud computing services enable customers to have all-around plans for their cloud backup mechanism, and safer, time-transcending cloud computing services and take advantage of the digital dividend created by the big Internet market.
Chief Cloud Computing Platform provides dedicated Virtual Machine (VM) services based on IaaS, allowing customers to utilize the VM's complete computing resources and administrator access, which compared with Web Hosting services (one server for several users), offers much more flexibility and potential.
Structure of Chief Telecom Cloud Data Center
Chief Telecom's Cloud Datacenter locates in Neihu District, Taipei City. With information security certificates of ISO 27017/27018, it complies with enterprise data localization, information security regulations, and audit requirements. The Cloud Datacenter provides public cloud solutions such as IaaS, Storage, and Information Security Protection, along with Chief Cloud eXchange (CCX) platform for direct connections to international public clouds, thus sufficing enterprise and personal information application needs at this cloud generation.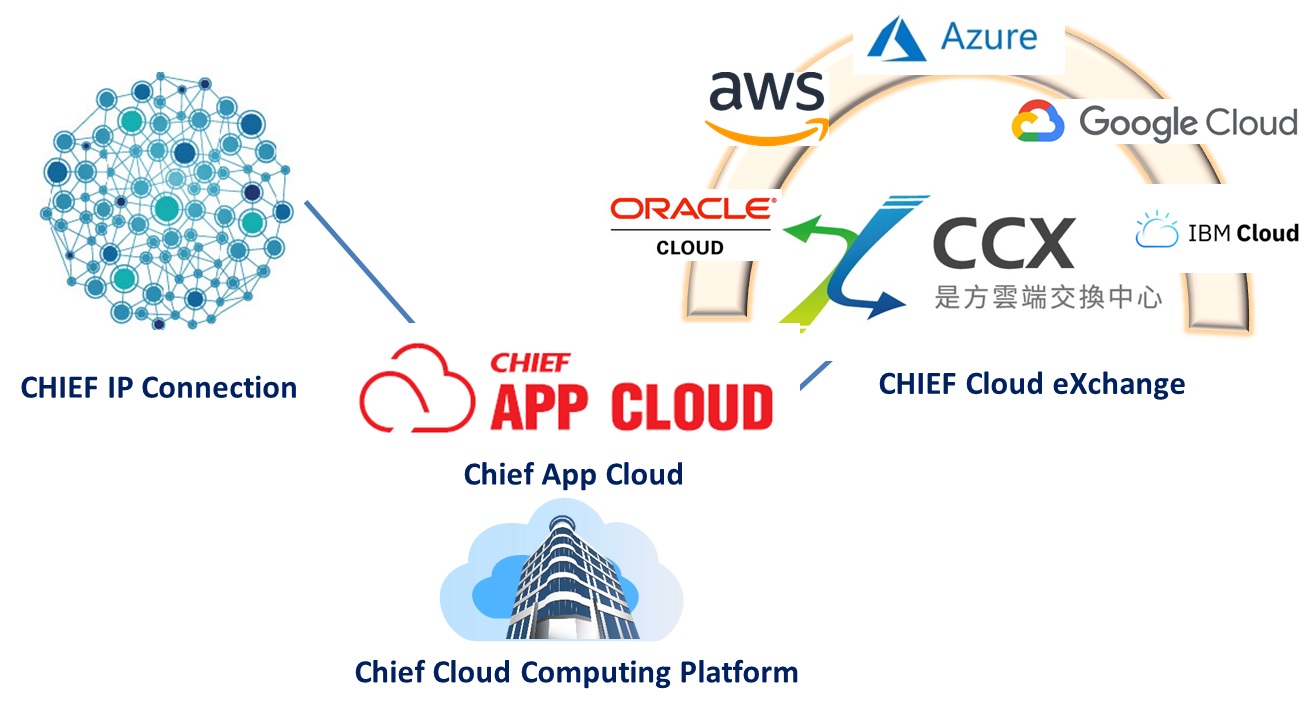 Geared to international technical standards based on cloud application and cloud structure.
Data localization with high security which complies with enterprise audit requirements.
Flexibility to connect international public clouds.
Deploy digital generation faster and easier with cloud resources.
Expensed service resources with no investment risk issues.
Services on Chief Cloud Computing Platform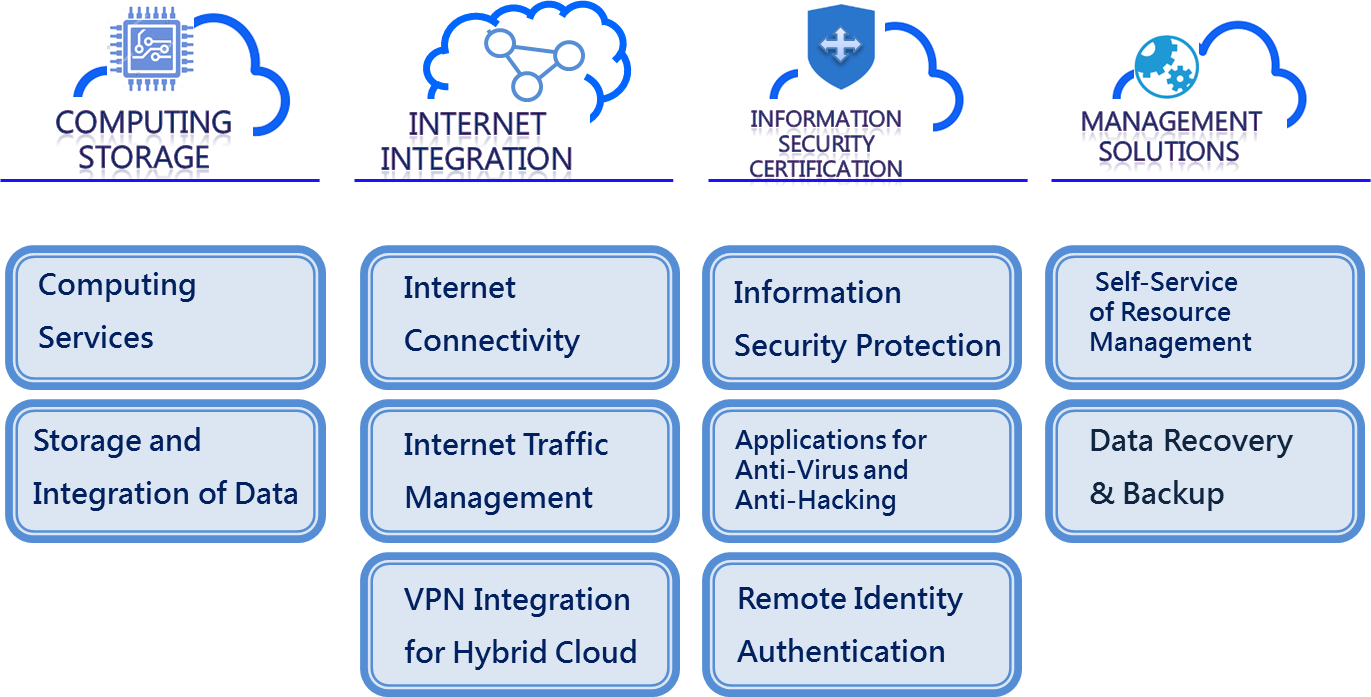 Service Features of Chief Cloud Computing Platform
Resource Pools with Virtualized Infrastructure
In addition to OS, the traditional peripheral devices such as CPU, RAM, hard drive, firewall, switch and load balancer can all be virtualized and provided as resource pools.
Fast and Flexible for Expansion
Package the applications and environment to simplify application deployment, and effortlessly copy and transfer applications from one data center to another. In this way, the resilience and expandability of operation has become more flexible.
Information Security for Application Data
Full disk mirror is provided to sustain data availability; users can additionally choose system data backup and disaster recovery services from value-added applications.
International Data Center and Internet Connectivity Environment
Located in the IDC with internationally certified specifications, including all-round power supply, air-conditioning, fire prevention, seismic sustainability, information security protection, 24-hour NOC, and quadruple infrastructure with dual backup, Chief Cloud Computing Platform satisfies the high standards of cloud platform's infrastructure. In addition, the international internet connectivity allows users to experience fast cloud applications globally.
Added Protections of VM
Full disk mirror is provided to all VM to sustain data availability; users can additionally choose from basic and advanced value-added applications.
Professional Internet Connectivity
Customers can not only connect to Chief Telecom IDC's domestic and international internet backbones and TPIX with flexible bandwidth adjustment for fast cloud experience, but also build their own enterprise private or hybrid cloud structure through enterprise VPN to cater to different application requirements. Furthermore, they can connect to international public clouds through CCX and build their own multi/cross clouds.
Professional Cloud Operation Service Team
Through leading cloud service experiences and techniques, Chief Telecom provides its customers with cloud service solutions and post-sales performance management services.