Chief Cloud eXchange (CCX) Center
With the advent of the cloud era, more and more enterprises have adopted public cloud solutions to flexibly expand their IT capacity, meet the development needs of enterprise cloud application services, while at the same time reducing high-cost and high-risk capital expenditures, and achieving business operational objectives. Although shared Internet connection is usually used to access public cloud, issues such as maintaining network quality, ensuring security and stability become more and more important when considering adopting cloud service.
For critical enterprise applications, without stable and secured high-quality Internet connections, companies cannot safely transfer data to the public cloud and enjoy flexible resources and various advanced cloud application services such as Big Data/AI. Chief Telecom's Cloud eXchange Center provides direct connection services to the most widely used international cloud platforms, including AWS, Azure, and Google, to solve customers' network performance and security concern when using cloud services.
Chief Cloud eXchange (CCX) is an integrated multi/hybrid cloud connection platform. Through CCX, customer can easily connect to different internationally renowned cloud service platform providers through private connections (dedicated line or VPN). CCX can provide customer with high reliability , high delivery rate, high quality and up to 10Gbp speed private connection.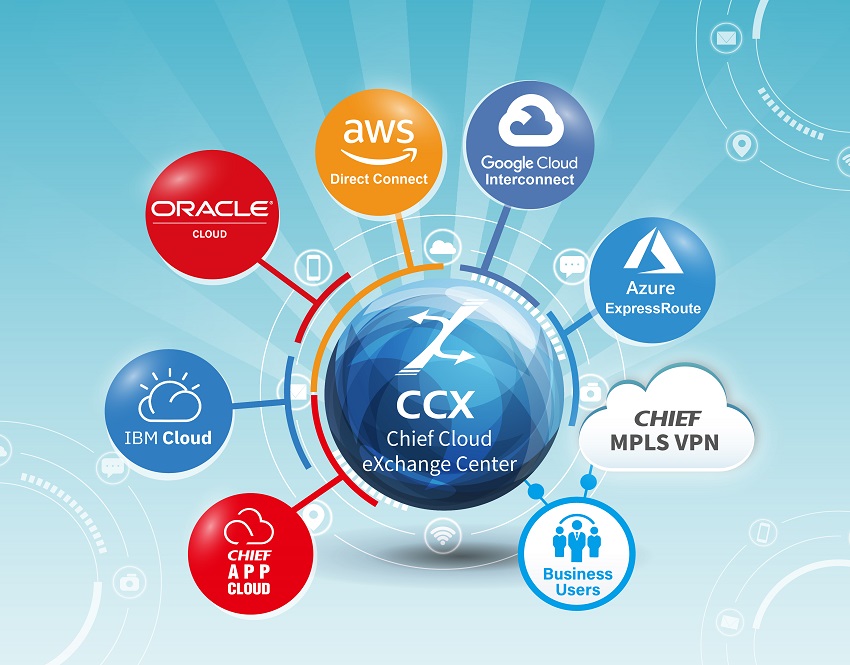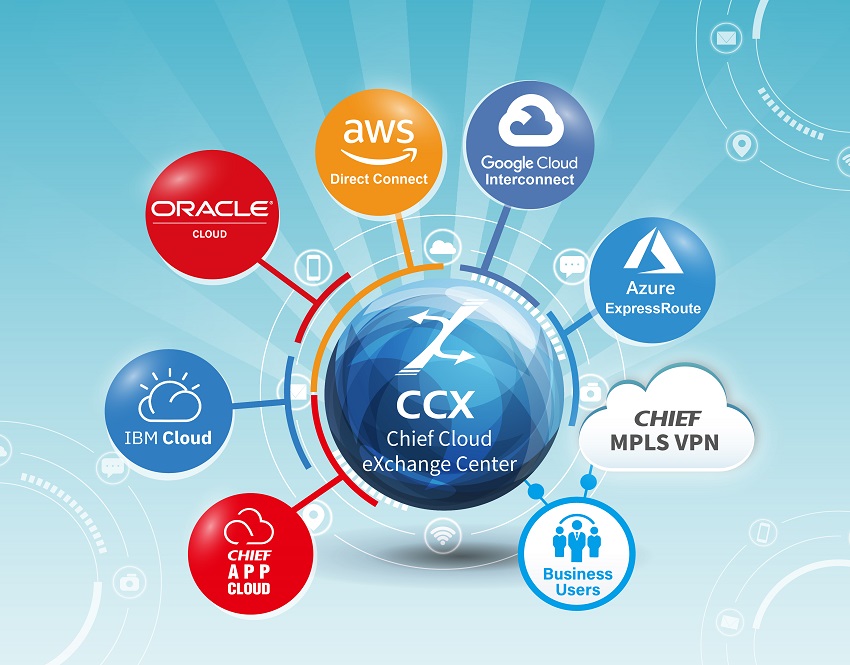 Service Features
Easy connection to multi/hybrid cloud in one single link.
Enjoy private connection service
Access Chief Telecom's global MPLS VPN backbone
Better connection reliability and delivery rate
Stable low latency connection
Flexible connection speed (up to 10Gbps)
Service Benefits
Better connection quality:  Via high speed and dedicated network connection, critical enterprise applications can enjoy higher service quality and reliability.
Guaranteed secure connection:  Transport enterprise sensitive data to and from cloud via secure and reliable private/VPN network.
Flexible bandwidth selections:  According to customer needs to provide flexible port speed from 10Mbps to 10Gbps. Cost is only based on bandwidth, no need to calculate the data traffic volume.
Lower cloud transmission costs:  Through CCX's private connection to the cloud platform, you can enjoy lower private network transmission fees than public clouds transmission fees for all major cloud platforms. In cases that have high data transmission requirements, the benefits are even more significant.