Chief Telecom 7×24 direct connect to IBM Cloud
To Help Enterprises Derive the Benefits from Hybrid Cloud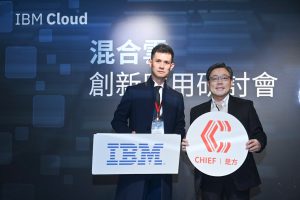 Chief Telecom (TWSE: 6561) cooperated with IBM to enable direct connection to IBM Cloud in HK PoP site early last year. Today Chief Telecom announced the release of Chief Cloud Exchange (CCX) x IBM Cloud Direct Link in Taiwan to provide faster and dedicated connect services. The 7×24 hybrid cloud service will assist domestic enterprise customers to expand their cloud business.
In order to enhance the network quality of IBM Cloud connection, ensure the security of data transmission and the regulatory compliance with data protection, Chief Telecom teams up with IBM to provide IBM Cloud Direct Link service to allow Taiwan enterprise customers to access IBM Cloud with a secure, high-speed and low latency connection through Chief global network nodes.
Owen Chen, IBM Cloud Platform Technical Sales Leader of Greater China Group, APAC, said that IBM has more than 60 cloud data centers worldwide to provide comprehensive and secure multi-cloud, hybrid cloud, and private cloud application solutions. Also, it is the only cloud service provider to offer high-performance bare metal servers in all IBM Cloud data centers among the popular public cloud providers. This Direct Link Connect service has been verified and reviewed by IBM professional engineering team to ensure the stability of network connection, the security and regulatory compliance with enterprise data exchange. It is devoted to the innovative cloud-native application development and also accelerates the adoption of multi-cloud.
Chief Cloud eXchange (CCX) is a one-stop platform service to enable direct connection to global public clouds to meet customers' infrastructure needs of hybrid cloud and escalate their global business. It further highlights CCX's role in driving cloud adoption in Taiwan.
Mr. Johnny Liu, President of Chief Telecom, indicated that Chief has rich international network resources with more than 30 nodes around the world and owns 3 IDC located in the network hub of East Asia. Enterprise customers can utilize CCX to directly connect to IBM Cloud through a reliable, fast and low-latency path to enjoy high-quality cloud application services.
"In an era of rapid digital change, Chief is committed to being the cloud business application center in Taiwan. It is just like a large digital convergence department store, where enterprise customers can obtain all of the cloud solutions they need." said Mr. Johnny Liu.
According to 2021 State of the Cloud Report from RightScale, up to 92% of enterprises have a hybrid cloud strategy. In other words, to face the wave of digital transformation, going cloud is not enough while adopting hybrid cloud is an effective strategy to help enterprises go global, flexibly respond to changes and rapidly expand their business.
According to the results of IBM's (NYSE: IBM) new global study on cloud transformation there has been a drastic shift in business needs as only 3 percent of respondents reported using a single private or public cloud in 2021, down from 29 percent in 2019 – establishing hybrid cloud as the dominant IT architecture.
The global study, conducted by IBM Institute for Business Value (IBV) in cooperation with Oxford Economics, surveyed almost 7,200 C-suite executives across 28 industries and 47 countries including 143 from Taiwan. The findings indicate that the cloud market has entered the hybrid, multi-cloud era.