Caves Books was established in 1952. In firm and solid paces, Caves has become one of the most important campus bookstores in Taiwan campus. Caves is also a pioneer in English language learning materials for children, adults and collegiate students. Now they have 28 stores that can provide nearest services.
Caves Books adopted Chief IDC solutions to create a secure e-commerce environment
Chief Telecom provides not only technical specialists and secure environments, but also reasonably service price.
Caves Books was established in 1952. In firm and solid paces, Caves has become one of the most important campus bookstores in Taiwan campus. Caves is also a pioneer in English language learning materials for children, adults and collegiate students. Now they have 28 stores that can provide nearest services.
To strengthen markets, Caves set up an e-business department. A business website which was built and hosted in a famous telecommunication's data center, Caves can interact with readers through Internet and provide books search, shopping, download materials and discussion. Caves really builds a paragon of Publishing in Web 2.0 era.
Customer security first, Caves Books divides website maintenance jobs into specialty divisions.
"Keep a forward-looking, positive people can control the trend; conservative people can maintain advantages" is the guideline of Caves Books. To follow the Personal Information Protection Act., Caves Taipei headquarters took a full inspection for their web site spontaneously last year. Through this self-inspection, Caves discovered some security issues in its hosting data center and asked for improvement. However, the many times of improvement were not satisfactory.
Weber Chang, deputy manager of Information Technology department of Caves said that the customer data security is the first priority to Caves to take into consideration. Caves will take it with the highest security standards. After discussing with the e-Commerce department, Caves Bookstore decided to move their web hosts into a more professional and secure data center. They also divide jobs into specialty divisions. Information Department takes the responsibilities of IT infrastructures and security. For the increasingly diversification of e-commerce service and the delicate of process, e-Commerce Department takes over for planning and the implementation. They expect these changes to bring customers more secure and a wider variety of Web services.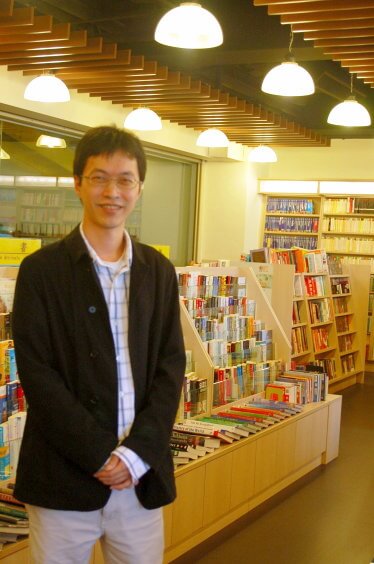 Chief Telecom stands out in the crowd because of professional services and reasonable price
"Although we have already had a professional data center in Taipei headquarter, putting the web hosts in it is still too risky. We decided to physically put internal information systems and web hosts into different data centers. It is not only for the easier system management, but also the data security can be better protected. Finding the right web hosting companies becomes the first step of moving data center. " said by Weber Chang.
Mr. Chang further stated that finding a right solution, the three fixed network companies in Taiwan, of course, are the first considerations. But after repeated negotiations, they found that the professional degrees and the price are not as good as they expected. The engineers even did not know the infrastructures of their own data center very clearly. It was not possible to move their web hosts into this kind of data centers. Being the same time with this troublesome situation, they started to contact Chief Telecom which was recommended through industry.
Chief Telecom is a Taiwan ICT (Information and Communication Technologies) leading provider. Their business began with system integration, telecom bandwidth reselling, and run telecommunications network centers. In 2006, CHT Group became the biggest stockholder of Chief Telecom. It brought an immediate effectiveness that can provide a full range of telecom services. The original doubts from Caves Books were solved via Chief's assistance of professionals after several discussions and expertise confirmation. Caves Books decided to move web hosts into Chief data center in 2008. Mr. Chang mentioned with a smile that Chief has secure infrastructures and professional skills. In addition, a reasonable price was also a reason why they choose Chief. It reduced the cost of maintenance. Year 2008 is a year of global financial crisis. Choosing Chief was a right decision that provided both higher security and lower cost.
Data center transfer within one day, value-add services significantly improve security
A 100 kilometers moving project from Taichung to Taipei, Caves completed the hosts transferring, pressure testing, security testing, and more complex jobs within one day. It was due to many preprocesses both from Caves and Chief. Mr. Chang said this was a good opportunity to replace their original hardware which has been used for 5 years. This was also a very good timing and safety way to test hardware before moving. They were thankful that Chief also helped to negotiated purchasing with resellers of hardware and software during the time. Caves thus saved the troubles on the purchase and acquired products at more favorable prices. The thoughtful service like Chief has was rarely seen in the industry.
Apart from fast transfer, Caves applied IPS and SSL VPN of Chief's value-added services. It ensured the web site security and encrypted transformation of every online order. Chief also provides bandwidth management service. Caves can dynamically increase their Internet bandwidth in case of large bandwidth requirement when they have online promotions. Businesses don't need to spend IT cost in a fixed and high rate if they use Chief bandwidth management service. This lowers potential risks of running a commercial web site and cost.
Caves Books launches Web2.0 service for customers due to Chief's support
For information security, Caves has achieved the level of pinching a penny until it screams. In 2009, Caves passed the government's plan of "Increasing Retail Industry Information security". This plan invited third party venders to do a full range of information security inspection of data centers. Mr. Chang said that Caves can build such a secure and scaled e-commerce web site just because of their strong and positive attitude, and cooperates with a professional IDC company. Thus they can focus on web developing and make it more functionality with Chief's support.
In the nearly future, Caves Books is not only a bookstore, it will be a pointer and a Web 2.0 milestone in publishing industry.