Expecting it to become the center of East Asia for digital convergence and AI cloud business applications
Upon completion of the groundbreaking ceremony of Chief Telecom's new IDC held on Oct 15th, President Tsai Ing-Wen (sixth from the left) leading Joseph Wu, Chairman of Chief Telecom (sixth from the right) and other VIP guests to take a group photo.
Held at 10am on Friday, Oct 15th, the groundbreaking ceremony of Chief Telecom (TWSE: 6561)'s new smart IDC welcomed VVIP guests including President Tsai Ing-Wen and other high-level government officials along with Mr. Sheih Chi-Mau, Chairman of Chunghwa Telecom (CHT), and marked its completion with them holding golden ceremonial shovels together. In President Tsai's congratulatory speech, Tsai praised Chief Telecom's fourth IDC as being a smart and green building, which not only follows the trend of high-speed internet connection of 5G and AI in the new era, but also expects to attract more global and cloud service providers to set foot in Taiwan. As these providers' regional service centers are established, the tenacity of Taiwan's international connectivity will be strengthened, which will at the same time elevate the key position of Taiwan as the East Asian digital convergence and the center of AI cloud business applications.
The groundbreaking ceremony began with the superb performance of lion dances and the cheering of war drums. In her speech, President Tsai specifically mentioned: "The building of the new international-grade cloud IDC of Chief Telecom will be a fresh turning point of Taiwan's IDC and cloud service industries, and at the same time it is of great significance for accelerating the internationalization of the latter." Mr. Sheih Chi-Mau, President of CHT, also commented in his congratulatory speech: "It is Chief Telecom's 30th anniversary this year and also the groundbreaking of its fourth IDC, which can be said as a double blessing. I sincerely expect that Chief Telecom continues to boost its operational momentum, and strive for the sustainable operation and growth of the group companies."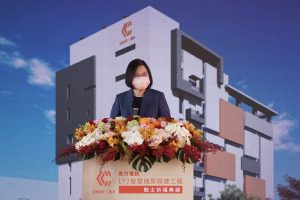 Present Tsai Ing-Wen giving a congratulatory speech at the groundbreaking ceremony of Chief Telecom's new IDC on Oct 15th.
Mr. Chen Yaw-Shyang, Chairperson of National Communications Commission (NCC), congratulated Chief Telecom with the motto: "To seek truth from the facts and to expand business with proper means." Chen said: "Chief Telecom is the pioneer of Taiwan's IDC industry and also the convergence where domestic internet traffic connects with international submarine cables. As its outstanding achievements, Chief Telecom has played the role of the hub and open port of Taiwan's internet facing to the world, and has been chosen by numerous global tech giants when they set foot in Taiwan. I expect that there will be even more global service providers to come to Taiwan and establish their business here after the new IDC of Chief Telecom launches, and cooperate with our domestic service providers on innovative applications such as smart transportation, smart factories and Platform-as-a-Service (PaaS) by means of the high-speed and large internet bandwidth, eventually driving the overall development of our IDC and cloud service industries."
Mr. Joseph Wu, Chairman of Chief Telecom, remarked that the new IDC incorporates the technical elements of green building and smart building, and main design ideas include IoT and ICT, aiming to become the best model of high-intelligence IDC in the country with its combination of the soft power of high-tech ICT and the green building design that dedicates to energy saving and carbon reduction. This will not only conform to the advent of the new generation of high-speed internet connection and the ecosystem transformation of digital economy, but also fully prepare Chief Telecom and its four IDC buildings for all kinds of challenges generated by digital convergence in the future at the same time as cloud business applications advance with the times.
Mr. Joseph Wu further indicated that from the trend observation of strategic layout of submarine cable operators and telecom service providers in Asia, Taiwan, located in the hub of East Asia, has become more and more vital. As part of the first island chain in the Western Pacific, from Taiwan it can directly connect to Japan and Korea in Northeast Asia, whereas to the south, Taiwan has been implementing Southbound Policy for many years, and both have contributed to Taiwan's increasingly important position in global politics and economics. And Chief Telecom, as the leading IDC service provider in Taiwan, not only operates the biggest domestic telecom market here, but also acts as the major gateway of international cloud services, submarine cables and internet connectivity, and its importance is self-evident.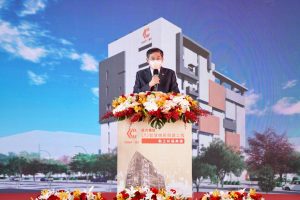 At the groundbreaking ceremony of Chief Telecom's new IDC held on Oct 15th, Joseph Wu, Chairman of Chief Telecom, delivering his welcome speech.
Mr. Johnny Liu, President of Chief Telecom, revealed that the budget allocated for the new IDC is around 2 billion NTD. The overall design will be close to a Tier 4 IDC, with an area of 5,000 ping, seven stories above the ground and two floors underground, and able to support the requirement and trend of HPC and high-density racks. The floor height of the new IDC will be 6 meters, and the floor loading can take up to 2,000 kilograms per square meter; it will also be able to withstand earthquakes of PGA 0.41G (Richter scale 7) with its Lead Rubber Bearing (LRB) seismic isolation design. The new IDC is scheduled to launch by end of 2023, and there will be extensive fiber networks to connect it to Chief Telecom's existing IDC buildings. In addition, the new IDC is located nearby the ramps of National Highway No. 1 and No. 2, and is only 40 minutes away by car to National Taoyuan Airport, both prove its excellent location.
Mr. Johnny Liu added that in order to provide customers with faster and more flexible cross-country services, a whole new intelligent connectivity service has been designed, through which Chief Telecom and its alliance partners from 10 countries will be able to provide services to each other's enterprise customers. For example, if a Taiwanese customer requires submarine cable to the Philippines for local internet access, or Taiwanese enterprises in Vietnam are requesting for VPN connections back to Taiwan, they can both raise requests through Chief Telecom and enjoy convenient and fast cross-country connectivity services. Through this service feature and the alliance with 10 ASEAN countries, Chief Telecom is not only responding to the government's New Southbound Policy by real action, but also obtaining more cross-country business opportunities. In the future, with the official launch of the new IDC, Chief Telecom is expected to attract more international customers, to satisfy the digital transformation and high-speed connection requirements of enterprise customers, and to create another peak in its revenue growth and profit earning as well as to march actively toward the goal of becoming the digital convergence of East Asia and the center of AI cloud business applications.
At the groundbreaking ceremony of Chief Telecom's new IDC held on the morning of Oct 15th, President Tsai Ing-Wen (left) and Joseph Wu, Chairman of Chief Telecom (right) holding golden ceremonial shovels to mark the completion of the ceremony.