Chief Telecom builds the strongest telco alliance in East Asia.
The impact of major external factors such as the US-China trade war and the COVID-19 pandemic has accelerated global supply chain restructuring. Due to the new southbound policy, Southeast Asia has emerged as a critical link in global supply chains, benefiting from its superior geographical position and rapid economic growth, as well as market demands. Also, the new southbound policy has led to more overseas investment in Southeast Asia. In view of the launch of the New Southbound Policy, Taiwan will conceivably reposition and consolidate its important role in Asian development.
In response to changes in global production capacity and recent trend in regional integration, Taiwan must make corresponding "advanced deployments." Chief Telecom (6561) has progressively worked on business deployment in Southeast Asia market a few years ago. In March this year, Chief Telecom signed a contract with PLDT Global, the largest integrated telco company in Philippines. In addition to the strategic alliance, Chief has successively signed cooperation agreements with major players in East Asia, including Malaysia, Vietnam, Thailand, Indonesia, India, Cambodia, Singapore, Japan, and South Korea, etc., to jointly build the most powerful telco alliance in East Asia. Moreover, Chief is going to launch a new intelligent exchange link service platform (Chief Connectivity Intelligence eXchange, referred to as CIX) in the second half of 2021.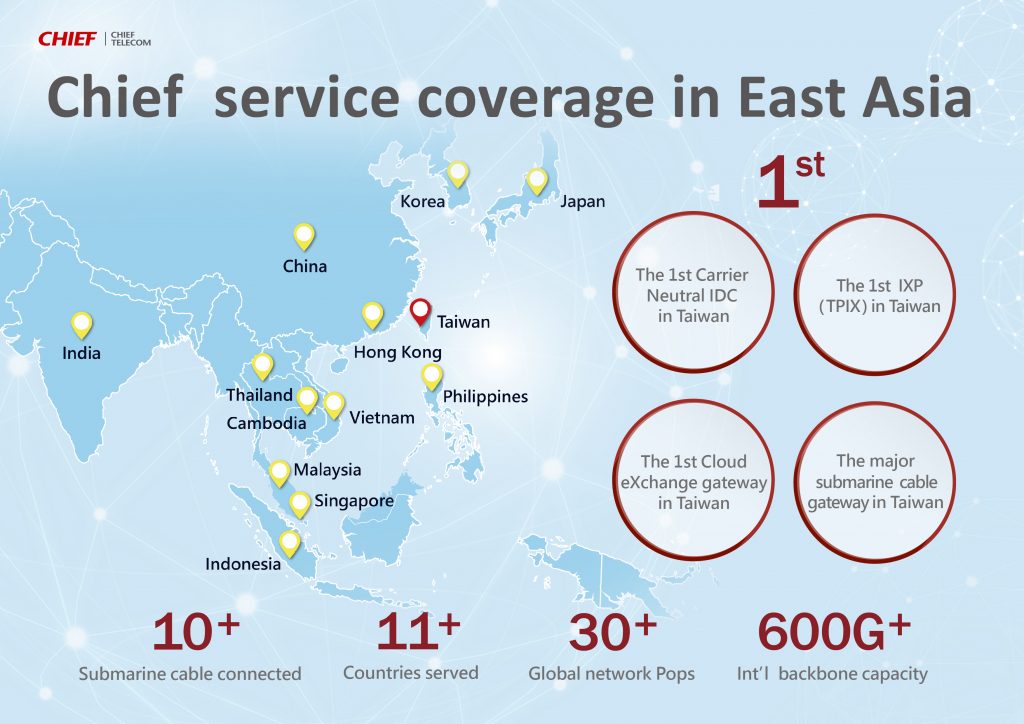 (Chief service coverage in East Asia)
Tony Chang, Vice President of Sales Division, Chief Telecom, said that Chief Connectivity Intelligence eXchange (CIX) is a one-stop, brand new multinational integrated service that provides backbone resources including international submarine cables, Taipei Internet Exchange Center (TPIX), and Chief Cloud Exchange Center service (CCX), VPN services, Chief Cloud Integrated Storage services (CCIS) and other application services. Compared with the previous one service one window, now you can purchase various domestic and foreign services as needed just through Chief single window, to save time, cost and improve service efficiency and availability of service. In the meantime, Chief keeps focused on the expansion of submarine cable resources and the backbone deployment in various countries, aiming to expand international backbone capacity to total 600G by the end of this year. Chief will continue to make efforts to enlarge the coverages of "network" and "end" and to strengthen its competitiveness, in order to fulfill Taiwan enterprises' demands in network and cloud services in an easier, more flexible, faster, and more affordable way.
Tony Chang further indicated that Taiwan is located at the hub of East Asia, and directly connected to the domestic and foreign markets. Chief is a leading IDC service provider in Taiwan. The new 4th data center is built based on smart buildings concepts and green building design specifications, estimated to be ready in the end of 2023. The new IDC building containing 16,500 square meters is expected to increase the available capacity by 50%. That will be a driving force to push Chief to greater success.
Besides, Chief Telecom provides cloud related solutions, including SurveyCake cloud-based survey service, Openfind EaaS service, and LOWI public sentiment monitoring Service, F5 Cloud WAF service, Trend Micro Deep Security, and Veeam Backup & Replication, etc. Those cloud-based solutions can be used for various fields and further helps enterprise customers to expand their business.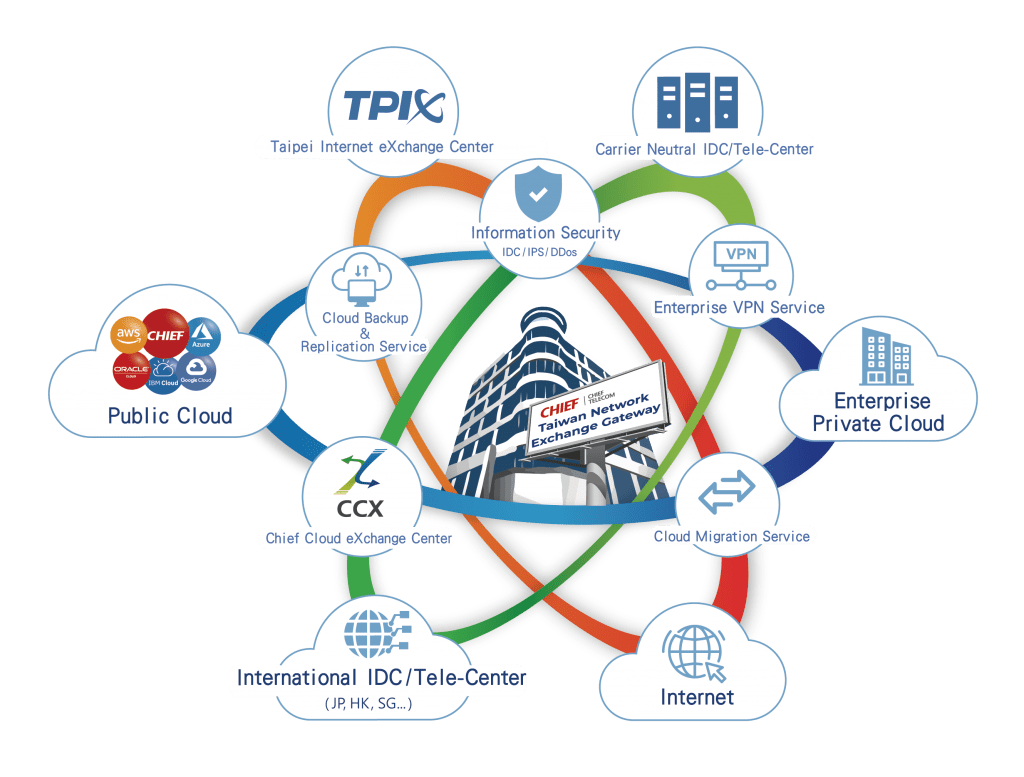 (Taiwan Network Exchange Gateway)