The first choice for home health management. Build your own mobile health manager.
Chunghwa Telecom partners with Chief Telecom to launch Chief i Health APP and build the dedicated mobile health manager.
Smart healthcare is definitely a hot topic recently. Under the influence of the COVID-19 pandemic, it can be said as one of the most concerned topics among people to be able to manage their own health information at any time. Today (August 2nd), Chunghwa Telecom and Chief Telecom announced their partnership on launching Chief i Health APP, which integrates the data of exercising, diet and health, and conducts health risk evaluation through big data analysis to provide the public with a dedicated mobile health manager. With a user-friendly UI, Chief i Health can also support health integration systems such as Apple HealthKit and GoogleFit to monitor the user's personal health data such as blood pressure, heart rate, weight, and exercising records in order to guard the user's health conditions comprehensively. In addition, there is also the most popular community activity feature among users, which can support multi-user connection and group competition to increase the sense of interaction and improve the performance and outcome of exercising.
"It is Chunghwa Telecom's goal to continue expanding its industry alliance. This time we cooperate with Chief Telecom to build Chief i Health APP with an aim to extend the coverage of mobile life circle, secure a foothold in the mobile smart health market, provide customers with the most instant smart healthcare, and satisfy our customers' needs in every way. Chunghwa Telecom dedicates to providing diversified application services and excellent mobile network services, which not only wins us double awards from the global speed-testing authority, but also Fastest 5G and Best Mobile Coverage titles from Speedtest®. Chunghwa Telecom will surely continue to lead the public to a new life of smart technology with its No.1 mobile network quality," Alex C.C Chien, President of Mobile Business Group of Chunghwa Telecom, remarked.
"Chief Telecom actively partners with internationally renowned brands and devotes to the R&D of personal health care APP to bring out Chief i Health APP, which has a unique feature of individualized health dashboard. As the trend of home fitness keeps growing, it also drives the downloads of our APP, which has already tripled in the first half of 2021. Our cooperation with Chunghwa Telecom this time is expected to keep up with the consumer's needs with each other's varied services, and ultimately achieve win-win situation," commented Joseph Wu, Chairman of Chief Telecom.
*Remarks:
1.The evaluation of Global Mobile Network Experience Awards of Opensignal is conducted by Opensignal from 2020.7.1 to 2020.12.27 on Taiwan's mobile network with license of individual investigation. Chunghwa Telecom was No. 1 in Download Speed, Video Experience, Game Experience and Voice App Experience in Taiwan.
2.ChungHwa Telecom was awarded with Fastest 5G and Best Mobile Coverage titles by the renowned Speedtest® website of Ookla® for the first half of 2021. The awards were based on the latest license of mobile network speed investigation in Taiwan from Q1 to Q2 in 2021.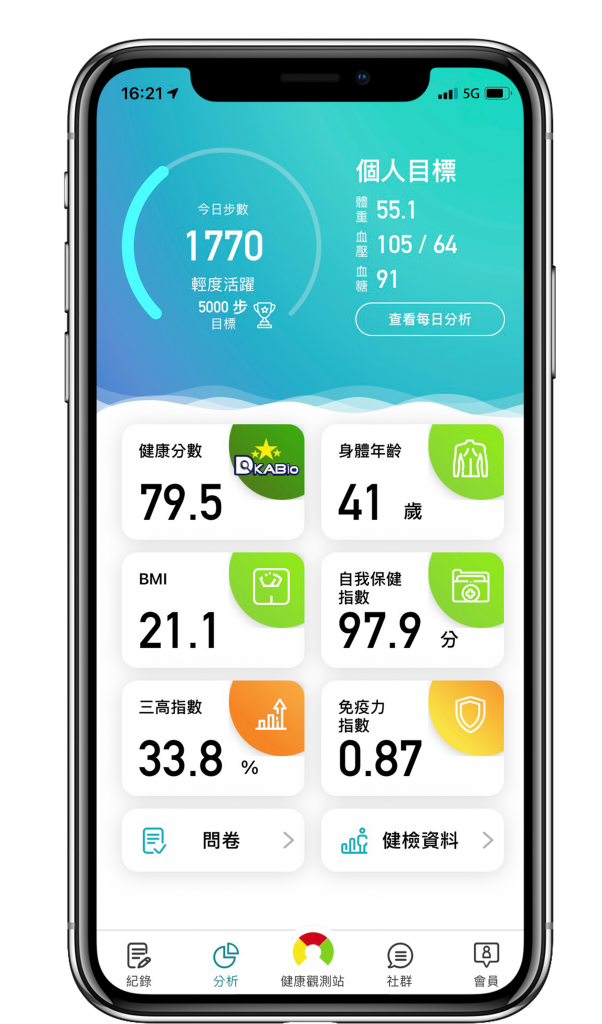 Chief i Health APP provides six major health index analysis information, including: health scorecard, physical age, BMI, self-care index, "The three hypers"(hypertension, hyperglycaemia and hyperlipidaemia) risk index, and immunity index.