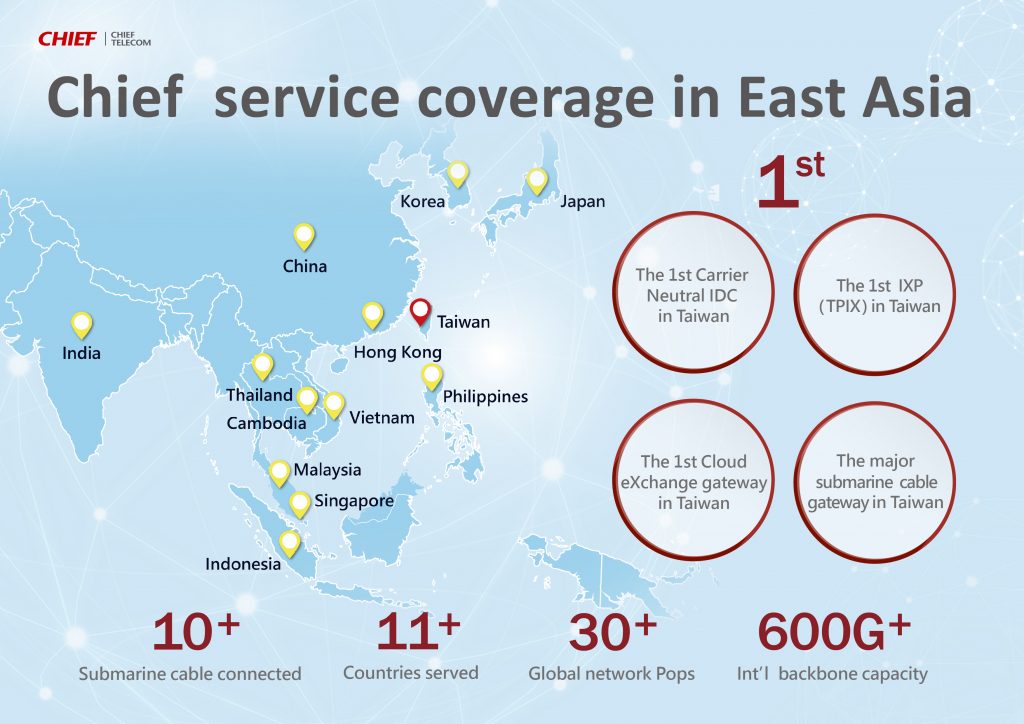 Chief service coverage in East Asia
The launch of intra-IDC alliance and record-high revenue of the 10th consecutive quarters
Chief Telecom (TWSE: 6561) announced on May 5th that it will build a new IDC with an area of 5,000 ping, seven stories above the ground and two floors underground, and able to accommodate 1,800 racks. The overall design will be matching that of smart and green buildings, and close to a Tier 4 IDC. The new IDC is scheduled to launch in 2023, which will expectantly enhance Chief Telecom's mid and long-term business momentum and assist its expansion into the East Asia market. Following the partnership established with PLDT Global in late March, Chief Telecom has also signed cooperation agreements with partners in Thailand, India and so on, forming a powerful telco alliance in East Asia.
Joseph Wu, Chairman of Chief Telecom, mentioned that the floor height of the new IDC will be 6 meters, and the floor loading can support to 2,000 kilograms per square meter; it will also be able to withstand earthquakes of PGA 0.4g (Richter scale 7). Designed based on smart building and green building concepts, Chief Telecom's new IDC is expected to be the model of new-generation, high-intelligence IDC that integrates the strengths of the soft power of ICT and the green building's energy saving and carbon reduction. Additionally, conveniently located, the new IDC will be just five minutes away by car from Chief Telecom's existing three IDCs, three minutes from National Highway No.1, ten minutes from National Highway No.3, and 40 minutes from Taoyuan International Airport.
Wu further indicated that Taiwan is located in the hub of East Asia and can connect directly to Northeast Asia, Southeast Asia and China markets. And that Chief Telecom is not only the leading IDC service provider operating the biggest telecom market here, but also the major gateway of Taiwan's cloud services, submarine cable systems and internet access. After the launch of its 4th IDC scheduled in the end of 2023, the available IDC space will increase by 50%, which will greatly enhance Chief Telecom's mid and long-term business momentum.
Furthermore, as seeing the impacts of U.S.-China trade war and the restructuring of global supply chain have on Taiwanese enterprises in China, Chief Telecom also begins to aim at the huge business opportunities of Taiwanese enterprises relocating to Southeast Asia. In addition to forming the partnership with PLDT Global in late March, Chief Telecom has already signed or begun to sign agreements with the leading local telco in ASEAN countries such as Thailand, Cambodia, India, and Singapore and so on. Hence, Chief Telecom also continues to expand its submarine cable system backbone, with the total capacity targeted to reach 600G this year.
Johnny Liu, President of Chief Telecom, also pointed out that in order to provide customers with faster and more flexible international services, they are currently designing a whole new Chief Connectivity Intelligence eXchange (CIX) service platform, through which Chief Telecom and its ASEAN alliance partners will be able to provide services to each other's enterprise customers. For example, if a Taiwanese customer requires submarine cable to the Philippines for local internet access, or Taiwanese enterprises in Vietnam are requesting for VPN connections back to Taiwan, they can all utilize CIX service platform to obtain the services they need in the shortest possible time, and this will surely add to Chief Telecom's international business opportunities.
Recently, Chief Telecom just announced its 2021 Q1 earnings and revenues, with a consolidated revenue of NT$689 million, gross profit of NT$312 million and a gross margin of 45%. Its net profit after tax is NT$167 million, which is a 13% YoY increase, and its EPS has reached NT$2.38. Also, Chief Telecom has seen record-high revenues of the 10th consecutive quarters, which mostly have been generated by IDC and cloud application services and thus have driven the overall numbers of Q1 earnings, gross margin and EPS.