MiTAC optimizes the hybrid cloud model by using CCX to build direct connection with Google.
Joining hands with Chief Telecom to introduce innovative cloud technologies and accumulating practical experiences to accelerate cloud service promotion.
MiTAC Information Technology Corp. has inherited rich experiences in system integration and core technology from MiTAC Inc, and transformed into an AIoT solution provider that can integrate cloud, edge and edge computing. Therefore, when experiencing the advancement in cloud technologies, MiTAC has often become the pioneer, responding to market demands with the most advanced and completed portfolio of cloud services.
Consequently, MiTAC was among the first group of users of Chief Cloud eXchange (CCX)'s private connection to multi-clouds back in July, 2019, through which they were able to improve both the information security and user experience. Their first step was to connect to Google Cloud Platform, followed by plans of connecting to other public clouds next year.
Mr. Burt Sun, Chief Manager of Cloud Services Operation Division of MiTAC commented, "Hybrid cloud is an inevitable trend, and the adoption rate is gradually increasing. However, in terms of the usage of hybrid cloud for us and most enterprise users, the investment of using leased lines to connect with public clouds is too large. And through Chief Telecom's CCX service, we'll be able to enjoy the same grade of connectivity, stability and guarantee on information security via the most cost-effective way."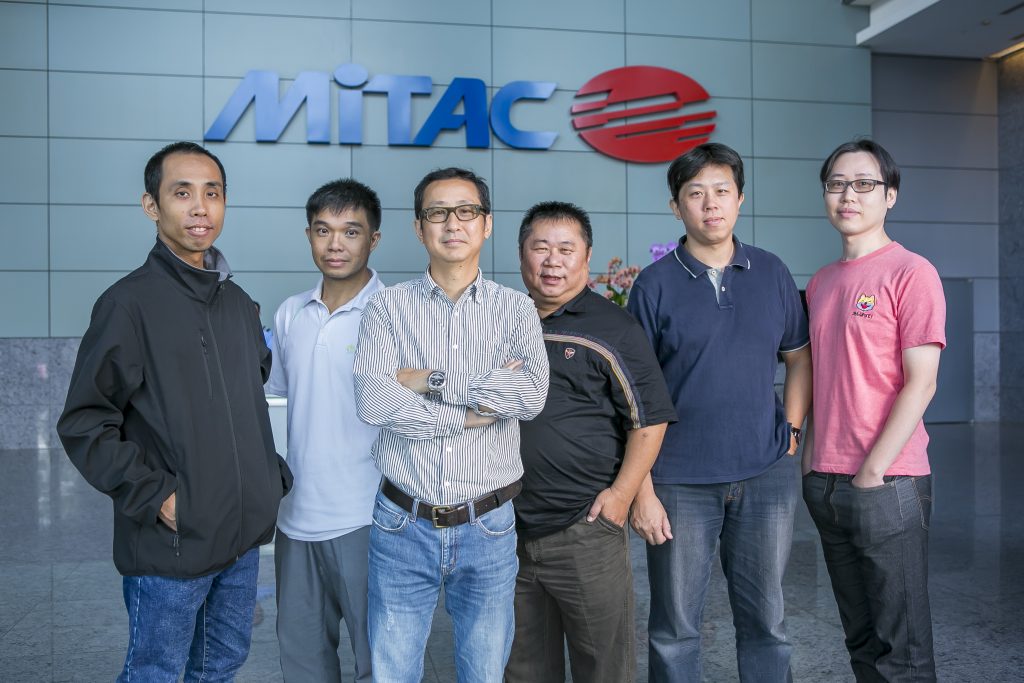 The Cloud Services Operation Division of MiTAC and Chief Manager, Mr. Burt Sun (third from the left)
Upgraded information security in compliance with regulations
MiTAC is the first Infrastructure as a Service (IaaS) provider in Taiwan, and it has transformed into the distributing and reselling partner of public clouds such as GCP, Azure, and the upcoming AWS in response to market changes.
In the meantime, MiTAC itself is also the user of these public clouds, with parts of its development, testing and execution of internal and external solutions migrated to the public cloud. For example, MiTAC has utilized GCP for their back up and DR operations as well as a development and testing environment and as a large-scale computing platform for R&D of AI services.
In the past, MiTAC used VPN over the internet to connect to GCP. And the major two concerns that drove them into deploying Chief Telecom's CCX service in July, 2019 were firstly to avoid the transmission of sensitive data through the public internet, and secondly to improve the speed and stability of the connection.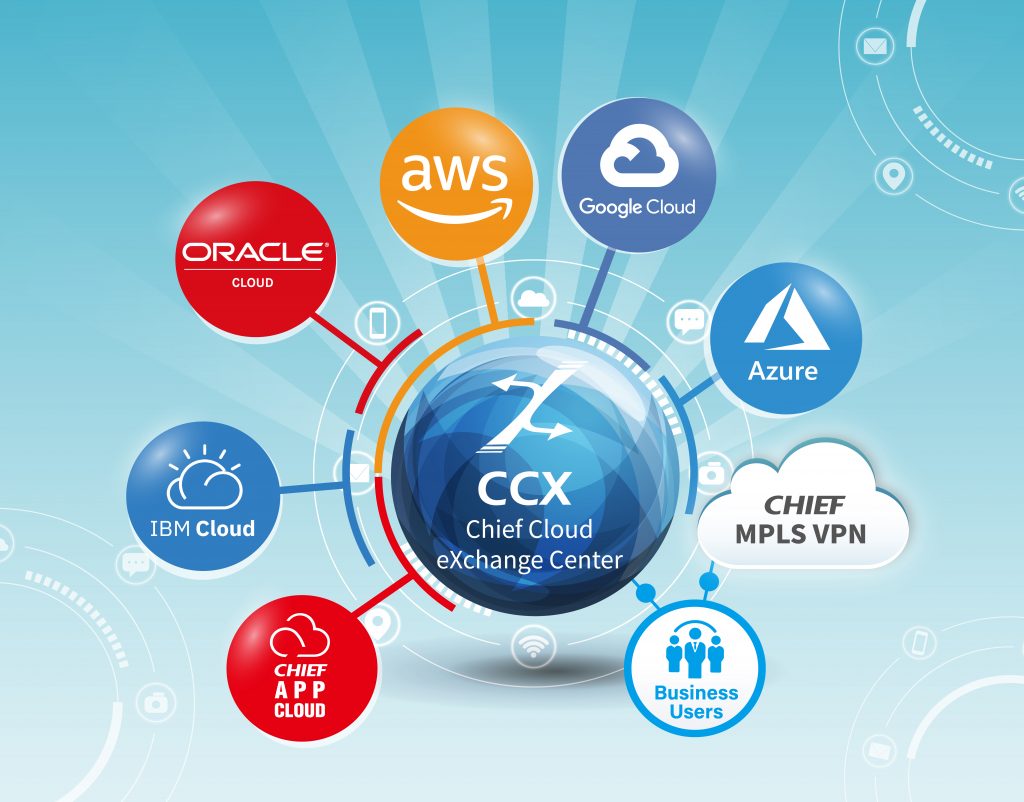 Chief cloud eXchange (CCX)
"Though MiTAC has already obtained ISO 27001 and many other information security certificates, after the passing of Cyber Security Management Act in 2019, there surely will be more strict requirements from the government agencies to their project contractors on the management of information security. Therefore, we have to be fully prepared, with improving the information security mechanism of public clouds as our top focus, which can be achieved by deploying Chief Telecom's CCX service immediately," said Sun.
In 2018, MiTAC started to evaluate the deployment of CCX service, and Chief Telecom joined in for planning and testing. After deciding to use the service in 2019, it only took MiTAC half a month to finish the process of application, installation and setup. Though the related changes of setup on MiTAC side were not as complicated, through Chief Telecom's assistance, the whole process was able to complete smoothly and thoroughly.
Effective user experience of optimization of connection speed and stability
What impressed MiTAC the most is that Chief Telecom will monitor and notify them of the operation status of the network, and they even had received notification of short outage of the circuit in the midnight, and the problem had been solved when they received the notification. As Chief Telecom has been taking swift reactions to network faults, MiTAC has never experienced any outage since the deployment.
With regards to file transmission, MiTAC takes the R&D of AI applications as an example: as they often have to upload dozens of GB of files to the public cloud, in the past they couldn't estimate the required time of transmission when using public internet. Even if the file sizes are the same, the time of transmission completion might be very different. Furthermore, some files might include sensitive data, yet MiTAC has no control over their routes of transmission at all.
After the deployment of Chief Telecom's CCX service, the most obvious benefit is the faster and more stable data transmission. The users can accurately estimate the required time for the transmission, so they can move on to the following tasks without waiting for the transmission to complete. Additionally, the restrictions of using IPSEC VPN to connect to Google have diminished.
Sun indicated that as the Cloud Services Operation Division is responsible for MiTAC's internal and external system operations and applications, in the past they often received complaints on the connection being slow and unstable, and they would take huge efforts in order to locate the root cause. Yet after deploying CCX service, they successfully got rid of the IPSEC VPN's bottlenecks in speed and security.
A noteworthy fact is that MiTAC had to purchase and setup related hardware devices in order to build up the VPN connection with Google, but Chief Telecom's CCX service does not require the same structure, which saved MiTAC from both the investment in hardware devices and the management tasks. Since CCX service connects MiTAC and Google directly through Chief Telecom's IDC and dedicated circuit, MiTAC not only can do without the tedious tasks of information security setup and management, but also experience the high security level of dedicated connection.
Expansion of cloud platform connection and extension of service for the customer
"MiTAC still focuses on security and infrastructure a lot, and Chief Telecom has been selected as our provider due to its leading role and professionalism in cloud solutions. Especially with our partnership with Chief Telecom for nearly 20 years, we had deployed several services such as IDC and others. For this CCX service, there have been close interaction and discussion between MiTAC and Chief Telecom, and it is exactly the kind of partnership we expected," commented Sun.
For MiTAC, the deployment of CCX service is like introducing a new idea to themselves. Even as MiTAC has been focusing on the development of cloud, there still would be omissions or deficiencies regarding relevant information and services. The partnership with Chief Telecom, therefore, not only brings to them more exchanges of ideas, but also becomes a critical driving force to MiTAC's cloud technologies.
MiTAC is now evaluating to expand their usage of CCX service to other public clouds including AWS and Azure. As Chief Telecom has a wide range of cooperation with internationally renowned cloud service providers, it enables MiTAC to enjoy the high efficiency of single contact window and the convenience of on-demand expansion.
"As MiTAC provides a rich array of cloud services to government agencies and enterprises, the advantage of CCX service in security, speed and stability will surely assist the promotion of cloud services. On the other hand, as MiTAC has deployed CCX service in the beginning and gained valuable user experience, it will help to promote advanced technologies and practical operations to our customers so as to cope with the growing demand of hybrid cloud applications. This will become MiTAC's unique value and competitiveness," concluded Sun.
Apply through Chief Telecom's sales representatives directly.
Call Chief Telecom Customer Service Center at 070-1017-1800.
Leave your contact methods at Chief Telecom's official website, and a dedicated contact window will be in touch.