Cloud Ace utilizes Chief Telecom's CCX platform to build high-quality integration service between on-premise and cloud environments
Originated from Japan, Cloud Ace is a Premium Partner of Google Cloud in APAC with branches in Taiwan, Vietnam, Singapore, Indonesia and Thailand, and its business model mainly based on project development and the rich experience in the industry have contributed to its unique advantage over other providers. Seeing the increasing demand for integration of on-premise and cloud environments, Cloud Ace particularly connected with Chief Telecom's Chief Cloud eXchange (CCX) platform in Taiwan, which provides dedicated connection to multiclouds, to provide higher service quality and guarantee to its customers who are concerned with network latency and security.
"The cooperation with Chief Telecom not only enables us to easily satisfy our customers' demand for service quality, but also allows us to focus on cloud service development, monitoring and debugging, with Chief Telecom fully taking care of the local connection. Most importantly, in cases where our customers encounter connection issues, Chief Telecom is able to respond and solve the issues with the fastest speed, which greatly improves our customers' trust and satisfaction," Cougar Huang, General Manager of Cloud Ace Taiwan remarked.
Founded in Japan in 2016, Cloud Ace began to expand globally in 2018 and set foot in Taiwan in the same year as its first stop of entering the Greater China market. Having won the title of Partner of the Year of Google Cloud for three consecutive years, Cloud Ace has a member portfolio consisting of more than 80% IT staffs. Quite different from other Google Cloud partners in Taiwan whose main business model is to assist on billing issues, Cloud Ace aims at helping customers realize business goals on Google Cloud, and building close relationships with customers through creating values for them, and finally exploring more potential business opportunities.
Cougar Huang, General Manager of Cloud Ace Taiwan
And among many projects Cloud Ace has handled, the hybrid cloud application of integration between on-premise and cloud environments is its forte. It is true that Google has IDC here in Taiwan, yet many customers still require low latency when they connect to Google Cloud. Additionally, there is also another common request which is to improve the routing to certain destinations to enhance the stability and speed of connections. For example, a large gaming customer of Cloud Ace exactly utilizes CCX service to access to its data stored in certain destinations.
Therefore, after Cloud Ace started to provide services in Taiwan, it immediately evaluated the relevant services and then chose to cooperate with Chief Telecom. Cougar Huang explained that based on the tests conducted, the latency to connect to Google IDC is around 10ms in Taiwan, but if the routing goes through CCX, it will be decreased to 2 to 3ms, which is a very obvious improvement to customers. Furthermore, it also provides crucial support to applications such as the instant data analysis and marketing positioning of the top 100 websites which require on-premise and cloud connection.
Besides the improvement in latency of connections, there is another reason that Cloud Ace chose to cooperate with Chief Telecom, and it is the short response time and strong ability to solve issues of Chief Telecom's support team. For example, there was one customer whose servers in Taiwan encountered issues of very low operation speed and even broken textures in their mobile APP, and Cloud Ace contacted Chief Telecom immediately, and consequently the issues were resolved in less than one hour.
Speedy response and high-quality service of the professional division of work
For customers who haven't utilized CCX service, Cloud Ace would need to open tickets and solve the issue on its own when issues arise. The follow-up work includes tracking, monitoring and recording in the analysis log; once confirming the issues do not lie in the cloud, Cloud Ace would suggest the customers to check on their own internet connection later. The whole repairing process, including the communication back and forth, could take a couple of hours and even a couple of days.
Once CCX is involved, Cloud Ace would refer the situation to Chief Telecom immediately if there are internet-related issues, and Chief Telecom's team would always locate the root cause quickly and eliminate it, which saves Cloud Ace from the extra workload. Therefore, Cloud Ace has included CCX service to its standard proposal to customers, especially those who are concerned with network latency and security, and work together with Chief Telecom to provide its customers with the best solution.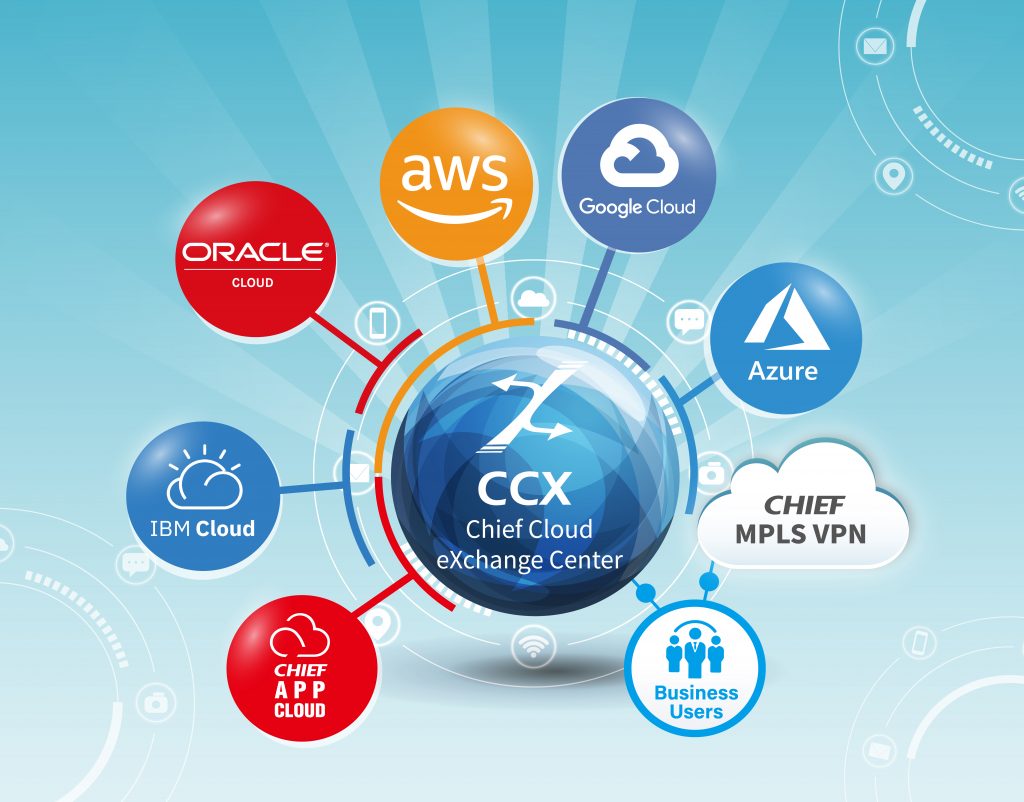 Chief cloud eXchange (CCX)
"The biggest difference in whether to deploy CCX service is the easiness to track issues, which is not only affected by the speed of solving problems, but also is influential to our customers' satisfaction rate. The cooperation model between Chief Telecom and us is that Cloud Ace monitors the cloud, whereas Chief Telecom takes care of the quality of cloud connectivity," Cougar Huang observed.
Currently, the customer portfolio of Cloud Ace in Taiwan consists largely of gaming and media industries. Take the media as an example – the press is especially concerned with the timeliness of news, and they can upload videos with CCX to experience the great uploading efficiency without packet loss. Also, the shorter it takes for uploading, the more working time earned for pre-editing work.
Developing new services together and exploring business opportunities on multicloud
Cougar Huang pointed out that when customers come to Cloud Ace, they are often faced with serious issues. And for cases like this, deploying CCX to improve the network quality and replying on Cloud Ace's service, customers can enjoy the highest level of solution quality and get rid of the annoying issues in no time.
Especially for large customers who often request for higher service quality, CCX service not only satisfies their requirements, but also becomes one of Cloud Ace's value-added advantages. Hence, to Cloud Ace, Chief Telecom is not only a service provider, but a key alliance partner.
In the actual process of project development, if there is any node with unsatisfactory network performance, Cloud Ace would discuss with Chief Telecom about enhancement by means of certain mechanism or protocol. And Chief Telecom's support team not only actively assist on the issues, but also offer the most suitable solution based on customers' needs. For example, in the past for customers who are concerned with network latency, they could only connect with Google IDC via costly dedicated circuits; now they are able to utilize CCX service to connect with Google IDC, which is an option of lower entry barrier and cost.
"There are lots of uncontrollable factors with regards to network connectivity. With Chief Telecom taking care of it wholly, we are able to be more focused on project development and can confidently reply on the response speed and service quality of Chief Telecom's support team. In the future, we also hope to be able to develop new PaaS and SaaS products and projects together with Chief Telecom, and build total solutions with on-premise and cloud environment integration to provide customers with even shorter provisioning timeline," Cougar Huang concluded.
Apply through Chief Telecom's sales representatives directly.
Call Chief Telecom Customer Service Center at 070-1017-1800.
Leave your contact methods at Chief Telecom's official website, and a dedicated contact window will be in touch.